Classical mathematical sociometry. Part III. Graphic methods of ordered socium
Keywords:
socium, multi digraphs, color, order
Abstract
In the article mathematical methods of social decision-making are developed, when the ordering of solutions is given by an arbitrary finite graph. For example: ordered, weighed and painted multitudes. The statement of the problem is but has never been considered in mathematical sociometry. Developed in our articles mathematical methods for direct and duality mathematical problems of the tasks of a single executor under the control of a socium ? under the scheme of an arbitrary finite graph G allow algorithmically solving any real problem of a sociometric planning.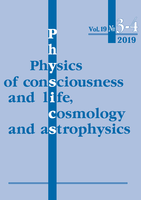 Downloads
How to Cite
Gritsak-Groener, V., & Gritsak-Groener, J. (2019). Classical mathematical sociometry. Part III. Graphic methods of ordered socium. Physics of Consciousness and Life, Cosmology and Astrophysics, 19(3-4), 37–44. Retrieved from https://physics.socionic.info/index.php/physics/article/view/524