On the survivability of the myths surrounding the General theory of the nature by A.I. Veinik
Keywords:
general theory of the nature, theory of time, physical properties of time, incorrectness of physical experiments
Abstract
"The general theory of the nature" by A.I. Veynik is analyzed. Absurdity of this theory is shown. The incorrectness of the experiments made in its justification is proved. Need of counteraction to the reviving popularity of this pseudoscientific theory is noted.
References
Вейник А.И. Термодинамика реальных процессов. — Мн.: Навука i тэхнiка, 1991.
Cмирнов С.Г. Еретик. — Иваново: ФГУП «Издательство «Иваново», 2002.
Николенко А.Д. Введение в экспериментальную и практическую темпорологию // Физика сознания и жизни, космология и астрофизика. — Т. 12. — 2012. — № 4. — С. 18.
Александров Е.Б. и др. Эксперименты по прямой демонстрации независимости скорости света от скорости движения источника (демонстрация справедливости второго постулата специальной теории относительности Эйнштейна) // Успехи физических наук. — Т. 181. — 2011. — С. 1345.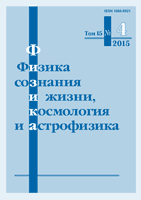 Downloads
How to Cite
Nikolenko, O. (2015). On the survivability of the myths surrounding the General theory of the nature by A.I. Veinik. Physics of Consciousness and Life, Cosmology and Astrophysics, 15(4), 41–51. Retrieved from https://physics.socionic.info/index.php/physics/article/view/176