New horizons of geocosmic medicine
Keywords:
heliobiology, magnetotrophic reactions, heliogeophysical imprinting
Abstract
The work is devoted to topical problems of heliobiology and space anthropoecology. On the examples of long-term studies of magnetotrophic reactions of animals, healthy and sick people at various geographical locations in the Far North, Kamchatka, the Kursk-Belgorod magnetic anomaly and in Western Siberia the living matter of the Earth is considered in indissoluble unity with the heliogeophysical environment. At the same time, high blood pressure and hypertensive variants of the response of functional systems of the human body to a testing magnetic signal act as an indicator of biogeophysical trouble. The phenomenon of heliogeophysical imprinting, discovered by Novosibirsk scientists, is described in detail in the early stages of ontogenesis of the extreme effects of various cosmic factors. The results of computer evaluation of long-term consequences for human health of intrauterine helio-geoecological imbalance are presented.
References
Деряпа Н.Р., Трофимов А.В. Биогеофизические аспекты адаптации человека на Крайнем Севере // Климат и здоровье человека. Труды межд. симп. — ВМО, 1988. — Т. 2. — С. 58-61.
Казначеев В.П., Михайлова Л.П., Трофимов А.В., Ржавин А.Ф. Проблемы эволюционно-биофизической биометеорологии // Proceedings of Symposium of Human biometeorology Strbske Pleso High Tatras. — Czechoslovakia, 1988. — P. 173-192.
Казначеев В.П., Деряпа Н.Р., Хаснулин В.И., Трофимов А.В. О феномене гелиогеофизического импринтирования и его значении в формировании типов адаптивных реакций человека // Бюллетень СО АМН СССР. — 1985. — Вып. 5. — С. 3-7.
Казначеев В.П., Куликов В.Ю. Синдром полярного напряжения и некоторые вопросы экологии человека в высоких широтах // Вестник АМН СССР — 1980. — № 1. — С. 74-82.
Марченко Ю.Ю., Горелкин А.Г., Трофимов А.В., Редько Н.Г. Клинико-физиологические реакции человека на кратковременное пребывание в гипогеомагнитной среде // Тез. докл. российской конф. с межд. участием «Проблемы электромагнитной безопасности человека: фундаментальные и прикладные исследования». — М., 1996. — С. 84-85.
Трофимов А.В., Деряпа Н.Р., Косяков Н.С. Коррекция артериальной гипертонии в климато-географических условиях Камчатки с использованием метода пролонгированной магнитной стимуляции точек рефлексотерапии // Тез. докл. научно-практ. конф. «Профилактика и терапия нефармакологическими средствами в условиях муссонного климата». — Владивосток, 1986. — С. 19-20.
Трофимов А.В. Новые данные по изучению магнитореактивности живых систем в эксперименте и клинике // Sbornik prednasek Electromagneticke pole a biologicke Systemy. — Pruha, 1984. — P. 159-169.
Трофимов А.В. Пренатальное гелиогеофизическое импринтирование и индивидуальные особенности восприятия человеком геокосмических потоков // Вестник МИКА. Вып. 3. — Новосибирск, 1996.— С. 24-32.
Трофимов А.В., Деряпа Н.Р. Влияние гелиогеофизической обстановки в различные периоды онтогенеза человека на индивидуальные особенности его магнитотропных реакций и некоторые конституционные признаки // Тез. докл. Респ. науч.-практ. конф. — Казань, 1988. — С. 69-70.
Узбеков Э.И. Клинико-анатомические особенности гипертонической болезни в условиях Европейского Заполярья // Тез. докл. V Все- союз. съезда паталогоанатомов. — М., 1977. — С. 109-110.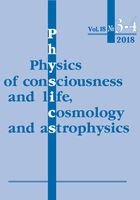 Downloads
How to Cite
Trofimov, A. (2018). New horizons of geocosmic medicine. Physics of Consciousness and Life, Cosmology and Astrophysics, 18(3-4), 5–14. Retrieved from https://physics.socionic.info/index.php/physics/article/view/506