Ideological chaos around entropy
Keywords:
system, information, entropy, interaction, thermodynamics, chaos
Abstract
The different definitions of entropy and information are considerate. It is shown that a reliable method for evaluating of system ordering is monitoring for its effectiveness, adaptability, survivability over the long term in an evolutionary sense.
References
Кузнецов Б.Г. К истории применения термодинамики в биологии. // Тринчер К.С. Биология и информация. — М.: Мысль, 1965.
Сивухин Д.В. Общий курс физики. В 3-х т. — М.: Наука, 1979.
Штеренберг М.И. Проблема Берталанфи и определение жизни. // Вопросы философии. — 1996. — №2.
Седов Е.А. Одна формула и весь мир. Книга об энтропии. — М.: Знание, 1982.
Савельев И.В. Курс общей физики. Т. 1. — М.: Наука, 1982.
Шеннон К.Э. Математическая теория связи. Работы по теории информации и кибернетике. — М.: Мир, 1963.
Попов В.П. Организация. Тектология 21. — СПб.: Алетейя, 2014.
Пригожин И., Стингерс И. Порядок из хаоса. — М.: Иностранная литература, 1986.
Дубнищева Т.Я. Концепции современного естествознания. / Под ред. М.Ф. Жукова. — Новосибирск: ЮКЭА, 1997.
Шредингер Э. Что такое жизнь с точки зрения физика. — М.: Изд. Иностранная литература, 1947.
Вернадский А.И. Избранные сочинения. Т.1. — М.: Изд-во АН СССР, 1954.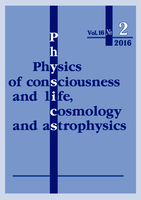 Downloads
How to Cite
Popov, V. (2016). Ideological chaos around entropy. Physics of Consciousness and Life, Cosmology and Astrophysics, 16(2), 43–47. Retrieved from https://physics.socionic.info/index.php/physics/article/view/475