The water in physical and chemical processes of transmembrane transfer
Keywords:
water, membrane, temperature, hydrogen bonds, polypeptides
Abstract
There are presented the results of experimental studies and literature data on the basis of which are considered the properties of melt, boiled, alkaline water and their influence on the transmembrane transfer processes.
References
Антонченко В., Давыдов А., Ильин В. Основы физики воды. К.: «Наукова думка», 1991. – 668 с.
Шкавро З. Физико-химические свойства воды в контексте метаболизма живой клетки // Физика со-знания и жизни, космология и астрофизика. – 2011. №3.
Кульский Л. Теоретические основы и технология кондиционирования воды. К. «Наукова думка», 1980. – 561 с.
Зелепухин В. Д., Зелепухин И. Д. Ключ к живой воде. Алма-Ата: Изд-во Кайнар, 1980. – 104 с.
Технології підвищення врожайності. 2014.
Брик М. Т. Енциклопедія мембран. К., 2006. С. 197-202.
Нагакагаки М. Физическая химия мембран. – М.: Мир, 1991. – 254 с.
Химический состав клетки. http://biologiyavklasse.ru/ximicheskij-sostav-kletki.html. 2011.
Митрофанов П. Практикум по физической и коллоидной химии. М., 1950. – 183 с.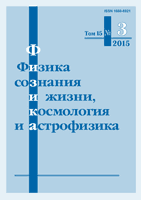 Downloads
How to Cite
Shkavro, Z. (2015). The water in physical and chemical processes of transmembrane transfer. Physics of Consciousness and Life, Cosmology and Astrophysics, 15(3), 40–45. Retrieved from https://physics.socionic.info/index.php/physics/article/view/159