The epoch technocracy is over. What's next?
Keywords:
cosmos, biosphere, noosphere, ecology, biophysics
Abstract
There are considered the problems of modern research on the effects of space on the biosphere. New approaches in the study of environmental and cosmoplanet problems are described.
References
Вернадский В. И. Размышления натуралиста. Пространство и время в неживой и живой природе. — М.: Наука, 1975.
Вернадский В. И. Научная мысль как планетное явление. — М., 1972.
Вернадский В. И. Проблемы биогеохимии. Труды биогеохимической лаборатории. — М.: Наука, 1980. — 383 с.
Козырев Н. А. Природа звездной энергии на основе анализа наблюдательных данных. // Астрофизика. АН АрмССР. — 1976. — Т. 12. — Вып. 2.
Козырев Н. А. Время как физическое явление. Моделирование и прогнозирование в биологии. — Рига: Изд-во Риж. ун-та, 1982.
Казначеев В. П., Трофимов А. В. Очерки о природе живого вещества и интеллекта на планете Земля: Проблемы космопланетарной антропоэкологии. — Новосибирск: Наука, 2004. — 312 с.
Казначеев В. П. Мысли о будущем. Интеллект, голографическая Вселенная Козырева. — Новосибирск: Сибирское научное изд-во, 2008. — 192 с.
Казначеев В. П. Здоровье нации, культура, футурология ХХI века. (Сборник статей и докладов 2007-2012). — Новосибирск, 2012. — 388 с.
Казначеев В. П., Михайлова Л. П. Сверхслабые излучения в межклеточных взаимодействиях. — Новосибирск: Наука, 1981. — 143 с.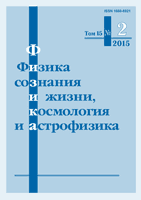 Downloads
How to Cite
Kaznacheev, V. (2015). The epoch technocracy is over. What's next?. Physics of Consciousness and Life, Cosmology and Astrophysics, 15(2), 19–22. Retrieved from https://physics.socionic.info/index.php/physics/article/view/130